In time as critical as now with the Coronavirus wreaking it's havoc on our country and the world over, one would think examples of kindness and generosity would be common. Yet…
Recently, a recovered COVID-19 patient agreed to donate his plasma to a suffering COVID-19 patient. When the details of the patient emerged, the plasma donor backed out. Why? Because the patient was a Shia.
According to a report by Naya Daur, a middle-aged man at Pakistan Institute of Medical Sciences (PIMS) in Islamabad was admitted to the hospital after being infected with the deadly virus. When his condition turned critical a few days ago, the family went out in search for plasma donor and were successful in finding a donor, who on finding out the patient was Shia, refused to donate his plasma and safe a life.
A member of the organisation that arranges plasma for critical patients, who is also a medical student, was the first to bring this incident to light: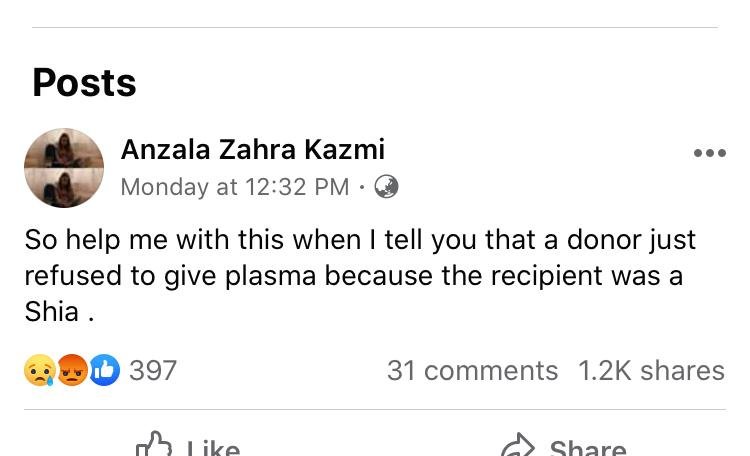 Kazmi told a news outlet, "I've come across many absurdities with respect to donors' approach towards donation, but neither I nor my team had expected a refusal based on the faith of the recipient. The reason why I don't want to name the donor is that my intention wasn't to bash an individual, but to highlight the intolerant mindset sadly prevalent in our society."
In the end, the team managed to find another donor for the said patient and he is now recovering from the virus.
On the other hand, some recovered Coronavirus patients are selling their plasma for vulgar amounts of money, rather than donating and saving lives as any good samaritan would.
Will we ever be able to overcome the rampant bigotry and discrimination in this country? We can only hope so.